The Ten Best Selling Adidas
Shoes of all time
A unique look at the Adidas superstar shoes
Best Adidas Sneakers of All Time
That You Can Shop Right Now
In 1969, Adidas superstar women shoe was the first low-top basketball shoe to feature an all-leather upper. It is now a famous rubber shell toe. It was becoming very famous due to its rubber toe protection and non-marking sole.
These shoes attracted the attention of some of the best players, especially from NCAA and NBA. adidas superstar shoes have amazing features like a rubber shell toe with a mix of leather and a herring-bone patterned outsole, super comfy and they don't tear up the back of the ankle and great arch support.
Adidas superstar shoes was become very famous by basketball legend Kareem Abdul-Jabbar and Queens hip-hop group Run DMC. These shoes are available in different ranges, colorways, and several different designs. Currently, these are one of the most popular shoes to date. In short, it is everything you could ask for in a lifestyle shoe.
These shoes are timeless, hip-hop, punk rock, hoops, skate, refined, and really whatever you want it to be but not old fashioned. There are not any shoes out in the market that are strongly identifiable. In this article, some of its amazing designs and ranges have been listed. All the designs have its unique and amazing qualities.
---
NMD_r1 Running shoe.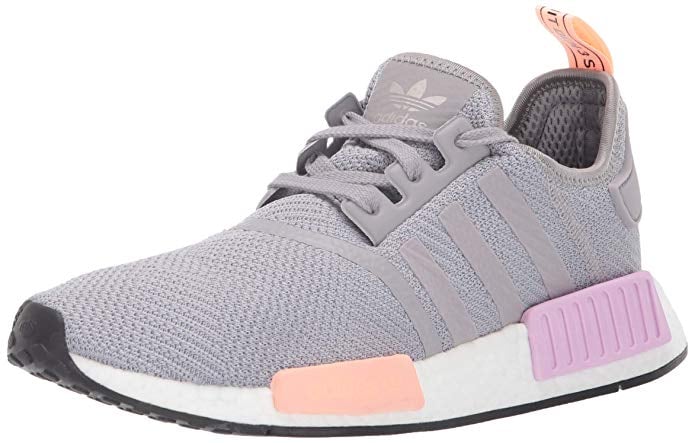 Adidas NMD_r1 running shoe is the original iteration of the Adidas nomadic silhouette. These shoes combine urban technology with an undeniable street style. It provides a sock-like fit for flexibility and stability through any journey. The boost midsole, our most responsive Cushing ever, maximizes energy return. These shoes combine the versatile performance of technical footwear with bold silhouettes and modern colorways to punctuate every streetwear style. Its further features include:
It has a rubber sole
Imported and 100% textile
Regular fit
Lace closure
Rubber outsole
Delivering maximum energy return
Explore your personal style in Adidas Original NMD_R1 for women.
---
Superstar 80s Sneaker
These shoes are an authentic reissue of the beloved shell-toe sneaker.
These shoes keep the authentic style alive with a smooth leather upper on a rubber cup sole. Its amazing features are:
Rubber sole
Imported
Full-grain leather
Herringbone-pattern rubber cupsole
Available in different colors and designs
---
Racer Running Shoe Sneaker
These shoes have a fresh style and sleek lines. These shoes give a very smooth and soft ride.  The soft shoe top allows for some stretch and space for foot. These shoes are best for those women who have swelling issues and have a wide size. These shoes are very comfortable to wear and walk. Some features are listed below:
Very lightweight
Perfect for wide size
100% knit textile
Rubber sole and imported
Mesh upper
---
80s Running Shoe
These shoes also have amazing features and qualities. These shoes are available in black and red colors. These shoes have a leather upper, lace-up closure, cushioned collar and tongue, 3D leather detailing in blocking, eye stay, leather and textile lining, and many more. Other features are:
Leather and synthetic upper
Synthetic sole
Imported
Adidas iconic branding
Ortholite sock liner for comfort and odor control
---
5:Adidas Women's Kaptur Sneaker
These are very famous for running purposes. These shoes are gorgeous looking and goes with everything. These are one size bigger than the normal size. Its features are:
Synthetic sole
Imported
Sock-like construction
Shaft measures nearly low-top from arch
Available in different colors
---
Pure Running Shoe
These are lightweight running sneakers. Adidas women's Cloudfoam Pure Running shoe combines the flexibility and lightweight sneaker with a different and modern look. These shoes are very comfortable and soft. Its features involve:
Ultra-soft cushioning
Lightweight
Innovative knit upper flashes
Synthetic sole
Lace closure
Women's specific-fit
---
7:Adidas Women's Grand Court Tennis Shoe
These shoes are encouraged by Adidas styles of the '70s. These shoes are decent, cute, and fun to wear. These are the grand court Adidas which are a little more lightweight, flexible, and soft than the leather of $80version. Some more features are listed below:
Clean design
Sock liner adds plush comfort
Rubber sole
Regular fit
Lightweight and soft
Women's everyday shoe
---
Superstar Slipon W Sneaker
This shoe is the style icon that is instantly recognized by its Ridgid rubber shell toe. The version of this shoe updates the classic look with a laceless slip-on design. The shoes come with wide elastic straps that crisscross over the foot to give a snug yet flexible feel. More features are:
Synthetic and 100 Textile
Rubber sole and imported
Platform approximately .75 inches
Crisscross straps
Laceless
---
Shoe Adidas Superstar 80s Casual Women's Shoe
These shoes are easy to slip on. These shoes are perfect for a walk. These are very comfortable and soft. It's more features are below:
Synthetic
Imported
Synthetic sole
Adidas quality
Shaft measures approximately low-top from arch
Available in three colors
Conclusion
There is a whole load of Adidas shoes that are everywhere the market, and over the years Adidas have produced more and more different types of sneakers. they seem to be an awfully popular brand to buy for from, which they're very reliable also. many folks are wearing them nowadays, and this includes celebrities too.
Adidas sneakers and shoes are known for being very comfortable and for being superb for your feet, as they're made to support them when you're walking. Adidas is an awfully good type of shoe for when you're playing sports, which they're able to facilitate your increase in your performance.
There are some things that you just just do must ensure of before you get them though, as an example, you want to make sure they suit your needs correctly which they're suitable for what you want to use them for.